I grew up in Western Michigan, and I felt a distinct call to ministry at the age of 12. This led me to Baptist Bible College, where I graduated in 1982. I have served at EABC since 1989. The guiding principles of my life are to love God, love people, and equip the saints to do the work of the ministry. I find great joy in sharing the timeless principles of God's Word and encouraging others to follow God's plan for their lives. I have been married to Barb since 1981, and we have five adult children and seven grandchildren.
I grew up at EABC and have been on staff since 1998. My responsibilities include small groups, educational ministries, counseling, leading Stephen Ministry, and assisting the Senior Pastor with funerals and weddings.
I am a graduate of Wheaton College, where I met my wife Marti. We have two children, Marta and Caleb.
My wife Lynn and I were married in May of 1986 and have been part of the EABC community since August of 1999. Outside of music, I enjoy biking, hiking, kayaking, and other outdoor activities that bring me close to God's creation. My wife and I also enjoy sightseeing on road trips throughout the state of Maine and beyond. Our greatest delight is the "Godchildren" who God has graciously brought into our lives to influence for His Kingdom.
I was born in 1989 and grew up in a Christian home, where I accepted Christ as my Savior in May of 1996. I have worked with youth groups, Christian summer camps, and local church ministries. I joined EABC as an intern working with the youth ministry in January of 2013 and was hired as Youth Pastor in January of 2014. I graduated from Clearwater Christian College in 2011 with a Bachelor of Arts degree in Pastoral Studies. I married Erin in July of 2010 and we have two children, Ella and Connor.
I am a Mainer through and through! I left the state for only 4 years to attend college. I have been a part of EABC staff for over 20 years. EABC had so many opportunities for short term missions and I took advantage of them all - Ecuador, Romania, and Nigeria. My love for missions is what introduced me to my husband! You never know what God is going to do on those trips! I am married to TJ, who I met on a mission trip to Nigeria in 2009. We have three daughters, Natasha, Aisha, and Maryam, whom I love a little bit more than coffee.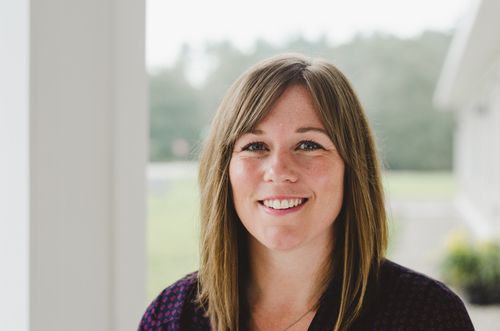 I was born and raised in Auburn, ME and received Christ as my Savior in August of 2014. I have been attending EABC ever since and became a member in 2016. I most recently worked at Tri County Mental Health as a Wellness and Recovery Coach until I decided to leave my position in order to homeschool my daughters full time. I joined the staff at EABC in November of 2018. I married my husband, Brent, at the cross at EABC in October of 2015. We have twin daughters, Sara and Emily.
I grew up in Minnesota, and after graduating from college, moved to Maine where I met my husband, Russ. We became members at East Auburn in 1996, and I've worked as a part -time secretary here for many years. I've been a part of the growth of East Auburn as it has become a Christian beacon to our community. I have two grown children and enjoy gardening and reading.
Director of Special Events
I joined EABC staff over 20 years ago. I oversee special events and creative elements in the church. My wife, Jen, and I have two children.
I love what I do here at church! I am surrounded by creative individuals who love the Lord and desire to serve!
I've been the Tech Director at EABC since 2017. I also work with various music and prison ministries. My wife, Amy, is also on staff, and we've got three adequate children.
I love my job - coordinating EABC's social media and website, and working in the office during weekend services. Stop by and say hi anytime!
I have been attending EABC off and on since 1995 and made it my home in 2010. I joined the staff in January of 2012. I graduated from Husson College with a degree in accounting and obtained an MBA from Southern New Hampshire University. My wife, Nancy, and I have two adult children.
I started working for EABC in August of 2017. I have lived in Maine all my life and started to enjoy winters by cross country skiing. I also love to go fishing at the coast.
I've been working here at church for over 5 years.